Right Way of Meditation Part 2
Ad
30
s
Skip Ad in

5

s
-Skip Ad-
Visit advertiser site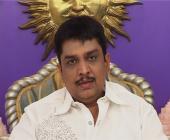 Published on: Oct 10, 2010
Right Way of Meditation
In Sutra 1 As Brahamrishi Subhash Patri Ji says: "Meditate in the right way i.e. Anapanasati… and help others to meditate in the same way"
There are not `many` ways of doing meditation! There is but one .. that is Anapanasati. This was the discovery of Gautum bhuddha about 2500 years ago! The eigth point in the eight-fold path of Buddha `I samma sati` .. i.e., `samyak sati` .. ie., `Right union`. Samma sati`!
Meditation is the only foundation for having spiritual experiences . Doing mediation and teaching meditation… these have to be treated as concurrent things. As we learn, we should teach the more and more we teach the more and more we learn..
Category:
Show More [+]
Show Less [-]