Jennifer Aniston and Justin Theroux's Date Night and the Painting She Bought For Charity For 450K doller
Ad
30
s
Skip Ad in

5

s
-Skip Ad-
Visit advertiser site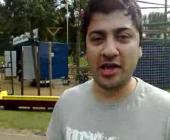 Published on: Sep 26, 2011
Hey there, I'm Lauren. Jennifer Aniston hit up Christie's auction house last night with boyfriend Justin Theroux, where the actress dropped some serious cash for a good cause. We have a look at their romantic date, and the pricey piece of artwork in today's PopSugar Rush.

Over the past week, Jennifer Aniston and Justin Theroux have been spotted all around New York City, and yesterday they were once again side by side, as they got dressed up in matching black and hit up a Christie's auction which was put on by Ben Stiller's charity.

Ben announced his foundation just last month, and he joked at the time that he was going to name it after the actress.

Jennifer: What? I never said this . . . Stiller.

Jennifer made a very sizable donation last night. For more on that, here's PopSugar editor TK.

Jennifer and Justin reportedly sat in the front row during the charity event, and Jennifer dropped $450,000 on this piece by artist Glenn Ligon, the proceeds of which went to help Haiti.

Jennifer is actually quite the art collector in her spare time.

We've seen Jen carrying auction catalogs around LA, and in last year's Architectural Digest, she was photographed in her Beverly Hills home with a very expensive Robert Motherwell painting that previously sold for over a million.

Category:
Show More [+]
Show Less [-]