Art Clokey's 90th Birthday - Art Clokey Google doodle
Ad
30
s
Skip Ad in

5

s
-Skip Ad-
Visit advertiser site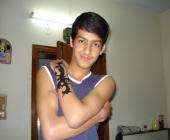 Published on: Oct 12, 2011
Today Google honors Art Clokey with a "Gumby"-Doodle on the homepage. Art Clokey was a pioneer in the stop motion clay animation.
He was born on Oct. 12, 1921 - 75 years ago. His birthname was Arthur C. Farrington. When Art was nine years old, his parents divorced. He lived with his father, but he died in a car accident. His Mother - and stepfather - had no interests in him. So the 12 year old Art was adopted by Joseph W. Clokey.

1955 his experimental short film "Gumbasia" released (3:34 min). It was a parody of and an homage to Disney's Fantasia. From this, Art Clokey and his wife Ruth invented Gumby (the green one). Gumby gets famous on many TV-episodes and shows.

Happy Birthday, Art Clokey.
Category:
Show More [+]
Show Less [-]