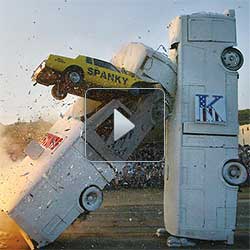 Ad
30
s
Skip Ad in

5

s
-Skip Ad-
Visit advertiser site
Bharatrozgaar.com was founded to fill the talent gap which organisations have always been facing. We focus on the job description (JD) and then filter candidates based on their experience and qualification. We believe in quality rather than quantity

How do we match?
Bharatrozgaar.com works in an organised way and guides you for the prospective industries to give you a comprehensive tour in the job market.

We are not just CV providers to a company we understand the importance of time for both, the job seeker and the recruiters.

With an extensive research we filter companies on the basis of job description (JD) and the candidates on the basis of their educational qualification and their kill-sets for a perfect match.

The stressful task of looking for a perfect job, Bharatrozgaar makes it easy. It does not keep you hanging by simply listing the job openings or providing you vacancy chart but it helps you meet your end to end needs when it comes to finding you a job.


What's in for you?
There is talent crunch in the India and everyone is looking for the right talent for their company. With your educational qualification not specialized and a plethora of job opportunities, you get confused with what the next step is. We feel opportunity-less, frustrated on how to move on. Bharatrozgaar takes away your pains by getting your skills and talent recognised in the market and fixing you up with a great job. How, you may ask.

By Bharat Rozgaar| 478 views

Bharatrozgaar.com was founded to fill the talent gap which organisations have always been facing. We focus on the job description (JD) and then filter candidates based on their experience and qualification. We believe in quality rather than quantity

How do we match?
Bharatrozgaar.com works in an organised way and guides you for the prospective industries to give you a comprehensive tour in the job market.

We are not just CV providers to a company we understand the importance of time for both, the job seeker and the recruiters.

With an extensive research we filter companies on the basis of job description (JD) and the candidates on the basis of their educational qualification and their kill-sets for a perfect match.

The stressful task of looking for a perfect job, Bharatrozgaar makes it easy. It does not keep you hanging by simply listing the job openings or providing you vacancy chart but it helps you meet your end to end needs when it comes to finding you a job.


What's in for you?
There is talent crunch in the India and everyone is looking for the right talent for their company. With your educational qualification not specialized and a plethora of job opportunities, you get confused with what the next step is. We feel opportunity-less, frustrated on how to move on. Bharatrozgaar takes away your pains by getting your skills and talent recognised in the market and fixing you up with a great job. How, you may ask.

By Bharat Rozgaar| 429 views

Bharatrozgaar.com was founded to fill the talent gap which organisations have always been facing. We focus on the job description (JD) and then filter candidates based on their experience and qualification. We believe in quality rather than quantity

How do we match?
Bharatrozgaar.com works in an organised way and guides you for the prospective industries to give you a comprehensive tour in the job market.

We are not just CV providers to a company we understand the importance of time for both, the job seeker and the recruiters.

With an extensive research we filter companies on the basis of job description (JD) and the candidates on the basis of their educational qualification and their kill-sets for a perfect match.

The stressful task of looking for a perfect job, Bharatrozgaar makes it easy. It does not keep you hanging by simply listing the job openings or providing you vacancy chart but it helps you meet your end to end needs when it comes to finding you a job.


What's in for you?
There is talent crunch in the India and everyone is looking for the right talent for their company. With your educational qualification not specialized and a plethora of job opportunities, you get confused with what the next step is. We feel opportunity-less, frustrated on how to move on. Bharatrozgaar takes away your pains by getting your skills and talent recognised in the market and fixing you up with a great job. How, you may ask.

By Bharat Rozgaar| 1190 views
Interview Etiquette - Part 2
Bharatrozgaar.com was founded to fill the talent gap which organisations have always been facing. We focus on the job description (JD) and then filter candidates based on their experience and qualification. We believe in quality rather than quantity

How do we match?
Bharatrozgaar.com works in an organised way and guides you for the prospective industries to give you a comprehensive tour in the job market.

We are not just CV providers to a company we understand the importance of time for both, the job seeker and the recruiters.

With an extensive research we filter companies on the basis of job description (JD) and the candidates on the basis of their educational qualification and their kill-sets for a perfect match.

The stressful task of looking for a perfect job, Bharatrozgaar makes it easy. It does not keep you hanging by simply listing the job openings or providing you vacancy chart but it helps you meet your end to end needs when it comes to finding you a job.


What's in for you?
There is talent crunch in the India and everyone is looking for the right talent for their company. With your educational qualification not specialized and a plethora of job opportunities, you get confused with what the next step is. We feel opportunity-less, frustrated on how to move on. Bharatrozgaar takes away your pains by getting your skills and talent recognised in the market and fixing you up with a great job. How, you may ask.
By Bharat Rozgaar | 1380 views