Land Gold Women - Official Trailer
Ad
30
s
Skip Ad in

5

s
-Skip Ad-
Visit advertiser site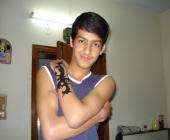 Published on: Oct 5, 2011
Land gold women is a National Award winner for Best Feature Film in the year 2010. Its an Emotional Family Drama. Directed by Avantika Hari Agrawal. A Richer Lens presentation.

Nazir Ali Khan is an immigrant Indian professor at a university in Birmingham who lives with his wife and two children Saira, 17 and Asif, 14. Nazir shares a great relationship with his children and indulges their love for all things English, but has taken great pains to keep the link to home strong. When his beloved daughter is found in an illicit relationship, Nazir is suddenly on the brink of a tough decision to make. Should he save his face? Or save his daughter?

Releasing this November 2011 in theaters near you.
Category:
Show More [+]
Show Less [-]