Baby Having Fun In Mom's Stomach.
Ad
30
s
Skip Ad in

5

s
-Skip Ad-
Visit advertiser site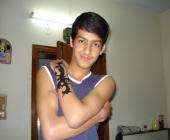 Published on: Oct 1, 2011
Baby hat viel spass im mamas bauch. - Baby Having Fu In Mom's Stomach
Sitting around in a stomach for 9 months can be pretty boring. This little guy decides to move around and have some fun.
Category:
Show More [+]
Show Less [-]